How to Upload a New WordPress Plugin
How to Upload a New WordPress Plugin
You're ready to upload the plugin files to your web server. In earlier versions of WordPress, you needed to upload the unpacked plugin files to your web server via FTP. Now, all you need to do is upload the zip file you just downloaded from the WordPress Plugin Directory. Be sure you are logged on to your WordPress Dashboard.
Although, unpacking the zip file you've downloaded is helpful because it can contain files that give you insight into the use of the plugin itself. Locate the plugin files you just unpacked on your hard drive.
In the event that the plugin developer didn't include a readme.txt file with instructions, check the plugin developer's page for specific instructions on how to install the plugin in your WordPress blog. Specifically, the documentation in the readme.txt file and/or on the plugin's website should address the following points:
What directory on your web server you upload the plugin files to.
What to do if you need to change permissions for any of the plugin files after you upload them to your web server.
What to do if you need to set specific configurations in the plugin file to make it work.
What to do if you need to modify your theme template files to include the plugin's functions in your blog.
To install the Subscribe to Comments plugin via the WordPress Dashboard, follow these easy steps:
1

Click the Add New link in the Plugins menu.

This opens the Install Plugins page on your Dashboard.
2

Click the Upload link at the top of the Install Plugins page.

The resulting page gives you an interface for uploading a plugin in zip format.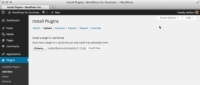 3

Click the Browse button.

In the resulting File Upload dialog box, you can locate the zip file for the plugin you'd like to install. In this case, the file is subscribe-to-comments.2.1.2.zip. Click the file to select it and then click the Open button to return to the Install Plugins page.