How to Activate a New WordPress Theme
How to Activate a New WordPress Theme
When you have uploaded a new WordPress theme to your web server, you can activate it by first logging on to your WordPress Dashboard. Then, follow these very simple steps: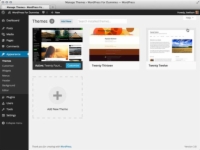 1

Click the Themes link in the Appearance menu.

The Themes page opens, listing all the themes currently installed in your /themes directory. The active theme is shown as the first theme listed at the top of the page. All available themes you may have uploaded to your web server are shown after the first, active theme.

Available themes appear on the Themes page in alphabetical order. If you have a lot of themes in your /themes directory, you'll see ten to a page, with Next and Previous links to help you navigate all the themes available for your blog.
2

Hover your mouse over the thumbnail image of the theme you want to use.

A Theme Details button appears — click that button and the window pops up and displays information about the theme, such as a small thumbnail and text description about its features.
3

Click the Live Preview button.

A preview window opens, showing you what your blog will look like with this new theme applied. The preview window also has basic theme configuration settings so you can customize your theme before you activate it. You can customize items such as site title and tagline, theme colors, header and background images, and the static front page so that your theme is ready to go when you activate it.

If you skip the customization step, you can return to the Manage Themes page and click the Customize link in the theme description to revisit the customization page.

Click the Cancel button in the top-left corner of the preview window to close the theme without customizing or activating it.