How to Customize the Header Image in Your WordPress Blog
How to Customize the Header Image in Your WordPress Blog
A great feature of the Twenty Twelve theme in WordPress is the header uploader, which allows you to upload new and unique custom header graphics for your WordPress site.
The dimensions for your customized header are at least 960 pixels in width and 250 pixels in height. If your photo is larger than that, you can crop it after you've uploaded it to WordPress, although cropping the image with a graphics program (like Photoshop) is the best way to get exact results.
Twenty Twelve comes preloaded with eight default header images, but WordPress allows you to upload one of your own. To install a custom header graphic, follow these steps:
1

On the WordPress Dashboard, click the Header link on the Appearance menu.

On the Custom Header page, the settings for the header image feature appear.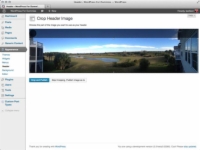 3

Click the Open button.

This step transfers the image from your computer's hard drive to your WordPress installation directory and loads the Crop Header page.
4

(Optional) Crop the image to your liking.

To resize and crop your image, drag one of the eight boxes located at the corners and the middle of each side of the image. You can also click within the image and move the entire image up or down to get the optimal placement and cropping effect that you want.