How to Create a One-Column Page with Twenty Ten WordPress Theme
How to Create a One-Column Page with Twenty Ten WordPress Theme
With the Twenty Ten WordPress theme, it's easy to apply a one-column layout when you add pages. On your WordPress site, a one-column page layout might be useful for product sales pages, e-mail subscription form pages, photography or portfolio pages, and anytime you don't want the reader distracted by a sidebar with its own content.
Normally, pages created with the Twenty Ten WordPress theme are two-columns, with a content area on the left, and a sidebar on the right, and a footer area with four widget-ready spaces. A one-column page, on the other hand, uses a single column for content that spans the full width of the screen.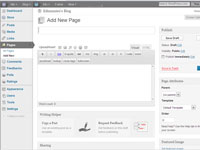 1

In the WordPress Dashboard, choose Pages→Add New.

The Add New Page page opens so that you can create a new page on your WordPress web site.
2

Add your page title and content into the corresponding areas.

You can use the Formatting toolbar above the Content area to format the page text as needed.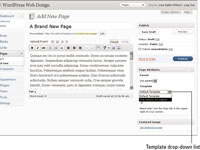 3

In the Page Attributes section, choose One Column, No Sidebar from the Template drop-down list.

The one-column page template is applied to the page you're creating.
4

In the Publish section, click the Publish button.

Your new page is saved and published to your site with the one-column layout assigned to it.