Adding Custom Navigation Menus to Your WordPress Blog
Adding Custom Navigation Menus to Your WordPress Blog
Navigational menus are vital parts of your WordPress site's design. They tell your site visitors where to go and how to access important information or areas on your site. The Menus feature released in WordPress 3.0 is an extremely significant addition to the already powerful software that allowed greater control over the navigational areas.
Similar to the WordPress Widgets feature, which lets you drag and drop widgets, the Menus feature offers an easy way to add and reorder a variety of navigational links to your site, as well as create secondary menu bars (if your theme offers multiple menu areas).
Additionally, the Menus feature improves WordPress further by allowing you to easily create more traditional websites, which sometimes need multiple and more diverse navigational areas than a typical blog layout uses or needs.
Twenty Twelve comes with the appropriate code in the navigation menus that make use of this robust feature. (By default, Twenty Twelve offers only one menu navigation area to include a custom menu.)
To create a new navigation menu in Twenty Twelve, follow these steps: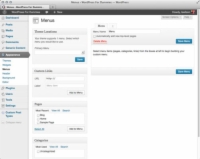 1

On the WordPress Dashboard, click the Menus link on the Appearance menu.

The Menus page loads on your Dashboard.
2

Enter a menu name in the Menu Name field and then click Create Menu.

After you create your new custom menu, the gray modules to the left become active for you to add new links to your custom menu.
3

In the Theme Locations module, select your new menu from the Primary Menu drop-down list and click Save.

Your new menu in the theme is activated for display on your site. As noted in the Theme Locations module, the Twenty Twelve theme supports only one custom menu, defined as Primary Menu.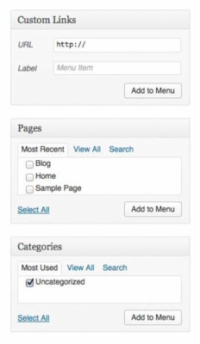 4

Add menu items, such as custom links, pages, and categories, to your new menu.

To include existing pages in your menu, locate the Pages module and click the pages you want to include. After you do that, click the Add to Menu button and then click the Save Menu button.

To include existing categories on your menu, scroll to the Categories module and click the categories you want to include. After you do that, click the Add to Menu button and then click the Save Menu button.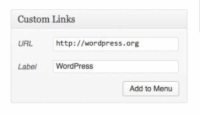 5

You can add links to sites that exist outside your website, such as your Twitter or Facebook profile pages. Scroll to the Custom Links module.

In the URL field, type the web address you want to direct people to. In the Label field, add the word or phrase the menu displays for people to click. Then click the Save Menu button.

If you're using custom post types, click the Screen Options tab at the top right of the Dashboard screen and select Custom Post Types under Show onscreen. This option makes custom post type links available for addition to the menu.
6

Click Save Menu to add your custom menu to your theme.

Click Save Menu after you make any significant change to your custom menu, such as reordering or adding new menu items so they are reflected on your site.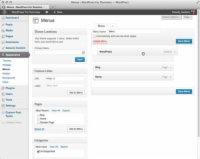 7

After you save your navigation menu, you can use the drag-and-drop interface to rearrange it.

Additionally, you can create submenus under top-level menu items by moving menu items slightly to the right beneath the top-level items.

Make use of the submenu feature to avoid cluttering up the navigation bar. By organizing content logically, you can help readers find what they want faster even if you have lots of content for them to look through.

You can also create multiple custom menus and add them to your theme through widget areas by using the Custom Menu widget, navigation areas if your theme supports multiple menu areas, or additional menu areas by inserting the WordPress template tag directly into your theme's template files.