How to Hide the Original WordPress Installation Domain
How to Hide the Original WordPress Installation Domain
The WordPress domain mapping plugin lets you access the child site by the original location regardless of whether it's a subdomain site or a subfolder site, so you can use domain mapping no matter which set up you chose for your network (subdomains or subdirectories). The domain mapped for the child site is also the domain used on all uploaded media files, which maintains consistency for the site.
In some cases, you may want to hide the original installation domain. For example, if your main installation domain is an obscure-looking domain like http://00954-yourvpsdomain-ba.com, you want to hide that domain from showing, because your site visitors can't easily remember or use it. If you want to hide the original installation domain, here's how you can do so:
1

Choose Network Admin→Sites.

The Edit Site page appears in your Network Admin Dashboard.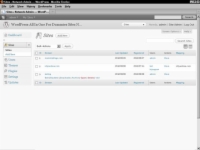 2

Hover your pointer over the name of the site you want to edit and click the Edit link that appears.

The Edit Site page displays in your browser window.
3

Find all instances of the original domain name and change them to the new mapped domain.

Be sure to click each of the tabs on the Edit Site page (Info, Users, Themes, and Settings) to change the original domain name to the new mapped domain wherever it appears on the Edit Site page. Keep any folder names intact.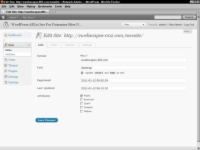 4

Save your changes by clicking the Save Changes button.

Your mapped site is now inaccessible at the original child site name (the subdomain or subfolder) and any references to it have been changed. Previous links within the body of posts, however, aren't updated automatically, so you need to edit the posts manually to change the links to reflect your newly mapped domain.