How to Create an Addon Domain in Your WordPress Web Hosting cPanel
How to Create an Addon Domain in Your WordPress Web Hosting cPanel
If the domain you're using for your WordPress network installation isn't the main domain of the website, but rather is an add-on domain, you can't use the usual process to park the domain. Because you can't tell a parked domain to go anywhere other than the root folder, you need to use the Addon Domains feature.
Follow these steps to create an Addon Domain in your web hosting cPanel:

1

Log in to your website's cPanel. In the Domains section, click the Addon Domains icon.

The Addon Domains page appears.
2

Enter the new domain name you want to map in the New Domain Name field.

The other fields, Subdomain/FTP Username and Document Root, get auto-populated by your web server; don't alter the information your web server populates for the Subdomain/FTP Username, as this field is setting the username you will use to connect when you need to use FTP. These are default settings for Addon Domains, and you should not alter them.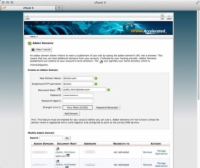 3

In the Document Root field, enter the folder location of your WordPress network installation.

The figure shows the Create an Addon Domain information filled in.
4

Click Add Domain to save your changes.

The Addon Domains page refreshes, and your new domain appears under the Addon Domains section.