How to Use SimpleScripts to Install WordPress
How to Use SimpleScripts to Install WordPress
SimpleScripts is a very popular script installer that several web-hosting providers make available to their clients. SimpleScripts contains different types of scripts and programs that you can install on your hosting account, notably, the WordPress software.
Using SimpleScripts to install WordPress is a pretty quick process; just follow these steps:
1

Log in to the cPanel for your hosting account.

Typically, you browse to http://yourdomain.com/cpanel to bring up the login screen for your cPanel. Enter your specific hosting account username and password in the login fields and click OK.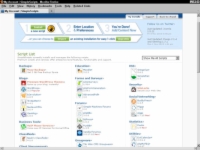 2

Look for the SimpleScripts link/icon and click it.

The SimpleScripts page loads in your browser window and displays a list of available scripts as shown.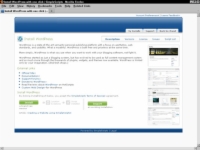 3

Click the WordPress link under the Blogs menu.

The Install WordPress page loads in your browser window.
5

Select the WordPress version to install in the first drop-down list.

You can select any available version; however, you should select the most recent available stable version of WordPress to make sure you have the latest copy of the software installed on your site. The stable version will be labeled as such in the drop-down list.
6

Choose the WordPress installation location from the Install on Domain drop-down menu.

If you have more than one domain on your account, those domains are shown in the drop-down menu.
7

Type the directory name for installation in the appropriate text field.

Leave this text field empty to install WordPress in the root directory (http://yourdomain.com) or enter the name of the directory you want to install WordPress into (for example, http://yourdomain.com/wordpress). The directory you type in the text field should not exist on your web server; if it does, SimpleScripts tells you that WordPress cannot be installed.
8

Open the Advanced Options.

You may have to scroll further down the page from what you see to view the Advanced Options. Click the Click Here to Display link in the Advanced Options section (Step 2 in the figure) and provide the information requested — including username and password.
9

Indicate you have read the terms and conditions of the GPLv2 license agreement.

Select the check box next to the words: I have read the terms and conditions of the GPLv2 license agreement to indicate that you've read the license. (Click the GPLv2 license agreement link to view and read the agreement, if desired.)
10

Click the Complete button.

An Installation Progress page loads in your browser window that displays the progress of the installation. When WordPress is successfully installed, you see a message indicating the installation is complete, as well as the display of your installation URL (web address) and your username and password that you use to log in.