How to Upgrade WordPress Automatically
How to Upgrade WordPress Automatically
WordPress provides you with an easy, quick, and reliable method to update the core software from within your Dashboard. Use this option whenever possible to make sure you are accurately updating the WordPress software. To update WordPress automatically, follow these steps:
1

Back up your WordPress website.

Backing up your website before updating is an important step in case something goes wrong with the upgrade. Give yourself some peace of mind knowing that you have a full copy of your website that can be restored, if needed. Do not to skip this step under any circumstances.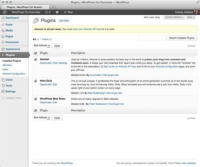 2

Deactivate all plugins.

This step prevents any plugin conflicts caused by the upgraded version of WordPress from affecting the upgrade process, and it ensures that your website won't break after the upgrade is completed. Deactivate plugins by following these steps:

On the Dashboard, hover your pointer over Plugins on the navigation menu and click the Installed Plugins link.

The Plugins page appears.

Select all plugins by selecting the check box to the left of the plugin names listed on that page.

In the drop-down list at the top, select Deactivate.

Click the Apply button.
3

Choose Dashboard→Updates.

The WordPress Updates page appears.
5

Click the Go to Dashboard link.

The Dashboard page appears in your web browser. Notice that both the update alert message at the top of the site and the notification bubble on the Dashboard menu are no longer visible. Your WordPress installation is now using the latest version of WordPress.

After you complete the WordPress software upgrade, you can revisit the Plugins page and reactivate the plugins you deactivated in Step 2 in the above list.