How to Edit WordPress Files with FileZilla
How to Edit WordPress Files with FileZilla
You will run into situations where you need to edit certain WordPress files that live on your web server. You can download a WordPress file from your web server, open it, edit it, save it, and then upload it back to your web server. Or, you can use the built-in edit feature that exists in most File Transfer Protocol (FTP) client software, like FileZilla.
When you edit WordPress files using the FTP edit feature, you edit files in a live environment, meaning that when you save the changes and re-upload the file, the changes take effect immediately and affect your live web site. For this reason, it is recommended to download a copy of the original WordPress file to your local computer before making changes. That way if you happen to make a typo on the saved file and your web site goes haywire, you have a copy of the original to re-upload quickly to restore it to its original state.
1
Connect your FTP client to your Web server and then locate the file you want to edit.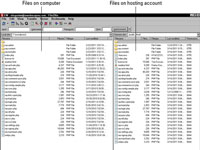 2
In the internal FTP editor, right-click the file and choose View/Edit.
FileZilla uses a text-editing program that's already on your computer.
3
Edit the file to your liking, click the Save icon or choose File→Save to save the changes you made to the file, and re-upload the file to your Web server.
After you save the file, a window opens in FileZilla that alerts you that the file's been changed and asks whether you wish to upload the file back to the server.
4
Click the Yes button.
The newly edited file replaces the old one.