How to Integrate Social Media with Your Blog
How to Integrate Social Media with Your Blog
When you create a blog and use social media, such as Twitter and Facebook, you invite your social media followers to view your blog by tweeting posts, or putting a link to a post on your Facebook page. However, you will get visitors to your blog who find your blog via Google or some other search engine and have no idea that you're using social media like Twitter or Facebook.
Here, you figure out how to drive people to your Twitter feed or Facebook page from your blog.
To integrate social media with your blog using the Social Media widget, follow these steps:
2

Click the Download button.

The Social Media Widget file is wrapped in a zip file.
3

Unzip the file and upload it to your blog's wp-content/plugins folder.

This is the humble abode of all the plugins for WordPress.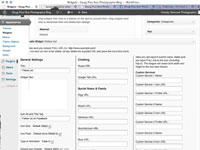 4

Log in to your WordPress blog. From the Dashboard, choose Plugins→Installed Plugins.

The Social Media Widget appears on the list.
5

Click Activate.

The plugin is ready to rock and roll.
6

Choose Appearance→Widgets.

The activated widget appears in the Available Widgets column.
7

Drag the widget to one of the sidebars.

The Social Media dialog box appears.
8

Provide the URLs to the social media sites you are a member of.

When you add the URL, make sure to include http://.