How to Integrate a WordPress Blog with a Website
How to Integrate a WordPress Blog with a Website
When you create a blog that will be an integral part of a website, you choose a theme similar to the main website. When you create the navigation for the main website, you create a link to the blog on the navigation menu. You can do this when you create a menu using Adobe Fireworks, or you can create the navigation link using Adobe Dreamweaver.
Whichever method you choose, open the blog in another window — unless you create a link from the blog back to the main website. Many blog templates give you the option to modify the code to create your own navigation menus, and the latest version of WordPress makes it easy to create a menu.
So if the theme you're using supports one or more menus, you can easily create a menu using the WordPress Dashboard as follows:
1

Log in to your blog.

You know your user name; just add the correct password.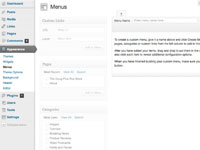 2

Choose Appearance→Menus.

Your browser refreshes to show you the menu options available for your theme.
3

Enter a name for the menu in the Menu Name text box.

The name you enter appears in front of the menu.
4

Click the Create Menu button.

The menu is created, and all you need to do is add the links.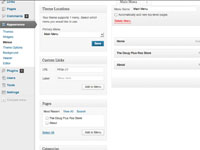 5

Choose the menu name from the Primary drop-down menu.

You may be tempted to click the Save button now, but you have more work to do before you can save a working menu.
6

In the Custom Links section, enter the URL for the main website.

Now all the missing links are in place.
7

In the Label text box, enter a name for the link.

Choose a name that's congruent with the main website. For example, you might choose Home, or the name of the website followed by Home.
8

Click Add to Menu.

The link is added to the menu.
9

Add any additional links.

You could mirror the navigation menu on the main website, or you could create links to pages that you've created for the blog. The pages you add to the blog show up under the Custom Links section. After adding additional links, they show up in the menu dialog box.
10

Click the Save Menu button, and then click Save in the Main Menu section.

The menu is saved.