How to Add a Widget to Your WordPress.com Blog
How to Add a Widget to Your WordPress.com Blog
WordPress widgets are very helpful tools built into the WordPress.com application. Widgets allow you to easily arrange the display of content in your blog sidebar, so you can arrange and display the content in the sidebar of your blog without having to know a single bit of PHP or HTML: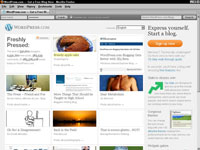 1

Log in to your WordPress.com account.

The main WordPress.com web page refreshes with the WordPress.com administration menu across the top. Click the Dashboard under your blog link to enter the WordPress.com Dashboard.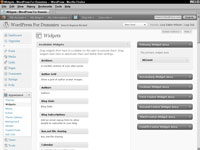 2

Click the Widgets link on the Appearance menu in your WordPress.com Dashboard.

The Widgets page opens. On the left side of the Widgets page, a listing of all widgets available for your WordPress.com blog appears. On the right side of the Widgets page are the widgets you're using in your sidebar.
3

Select the widget you want to use.

All the widgets are listed in the Available Widgets section.
4

Click on the Widget of your choice and add to your sidebar.

Use your cursor to drag and drop the widget over to the Primary Sidebar section on the right side of the page. The widget is now located in your sidebar, and the content of the widget now appears on your site in the sidebar.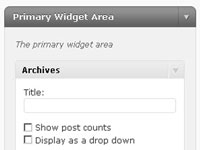 5

Click the arrow you see to the right of the widget title.

Click the arrow to see drop-down menu with options for the widget. Each widget has different options that you can configure. The Archives widget, for example, lets you configure the title, the display of the post counts, and the display of the archives.
6

Select your options and click the Save button.

The options you've set are now saved. Click the Close link to close the widget options menu.
7

Arrange your widgets in the order in which you want them to appear on your site by clicking a widget and dragging it above or below another widget.

Repeat this step until you have your widgets arranged the way you want them. WordPress.com saves your configurations for all your widgets automatically as you change them.
8

After you select and configure all your widgets, click the title of your site at the top of your WordPress Dashboard.

Your blog's sidebar appears, matching the content (and order of the content) you've arranged in the sidebar on the Widgets page.