How to Add a Web Image to Your WordPress.com Posts
How to Add a Web Image to Your WordPress.com Posts
Adding an image or photo to your WordPress post is easy. Start by clicking the Add Media button, which is the first button on the left above the WYSIWYG editor. The Insert Media window opens, letting you choose images from your hard drive or from the web.
To add an image from the web after you click the Add Media button, follow these steps:
1

Click the Insert from URL link on the left.

A text box appears.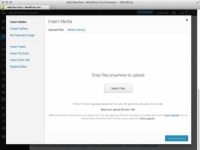 2

Type the URL (Internet address) of the image in the Image URL text box.

The image appears in the Insert from URL window, along with several other options for this image, explained in the next steps.

Type the full URL, including the and portions of the address. You can find the URL of any image on the web by right-clicking it and selecting Properties.
3

Type a title for the image in the title text box.

Give the image a title so you can easily identify the image later when using the Media Library. A title also assists in search engine optimization because WordPress inserts a tag in the HTML markup, which helps search engines identify the type of content on your page.
4

Type a description of the image in the Alt Text box.

The Alt (alternate) Text, also referred to as the ALT tag, is shown only if a browser is unable to show the image itself. It provides a text description of the image; additionally, search engines read ALT tags easily, which helps them categorize your site in their search engine directory.

You can also type a description of the image in the Caption text box if you choose.
6

Select the Link To option:

Image URL: Choose this option if you want to link the image to its individual URL.

Custom URL: Choose this option to type in your own URL.

None: Choose this option if you don't want to link the image to anything.
7

Click the Insert into Post button.

Your image is posted.