How to Activate a WordPress.com Theme
How to Activate a WordPress.com Theme
Choose a theme for your WordPress.com blog, and then activate it. The WordPress.com theme (also called design or template) that you select affects the visual layout and appearance of your blog.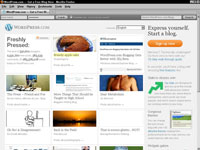 1

Log in to your WordPress.com account.

The main WordPress.com web page refreshes with the WordPress.com administration menu across the top. Click the Dashboard under your blog link to enter the WordPress.com Dashboard.
2

In your Dashboard, click the Themes link on the Appearance menu.

A page filled with themes appears, along with a thumbnail image of the theme so that you can get a basic idea of what it looks like.
3

Look through the list of available on the Manage Themes Page.

You can sort the themes shown on the Manage Themes page to display Random themes, an alphabetical listing of themes, Popular themes or Recently Added themes.

Also, you can click the link on the Manage Themes page titled Feature Filters to select choices to filter them by colors, columns, width and features.
4

When you find a theme you like, click the Activate link underneath the theme thumbnail, or click the theme thumbnail itself.

A dialog box appears, showing you a preview of what your own blog would look like with that particular theme.
5

Click the Activate link in the top-right corner to activate the theme on your own blog, or click the X in the top-left corner if you decide not to use that theme.

No, really — it's just that easy. If you get tired of that theme, go to the Appearances tab and choose a different theme, and you're done.