Add a YouTube-Hosted Video to a Blog Post
Add a YouTube-Hosted Video to a Blog Post
Video is a very desirable thing to add to a WordPress blog post. You can upload your own videos to your website and create links to them in your blog post. Unfortunately, you have the same issue with video as you do with audio — the link opens in the same window.
If you open the link in another window, it's a distraction. Having an embedded video is so much better. An added bonus is that YouTube takes the bandwidth hit when a visitor plays the video — having your cake and eating it, too. You do need to have a YouTube account set up first. But then you can embed a video in any blog post. Here's how:
1

Log into your YouTube account.

You can embed any public YouTube video in a blog post, but unless a business partner created the video, it's best to use your own video.
2

Click a thumbnail from your channel.

The video opens in another window and starts playing.
3

Click the Share button.

YouTube displays choices for sharing the video.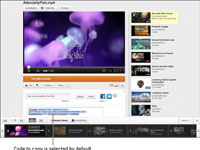 4

Click the Embed button.

YouTube displays the HTML code needed to embed the video in a web page or blog post. The code is selected by default.
5

Right-click and choose Copy from the context menu.

The code is copied to your Clipboard.
6

Log in to your blog.

You know, the old user name, password deal — so many accounts, so many passwords.
7

Create a new blog post.

Give the blog post a search engine–friendly title.
8

Enter the desired text.

If the video is the star, the title may suffice.
9

Position your cursor where you want the video to appear and then click the HTML tab.

You see the code required to bring your blog post to fruition in a web browser.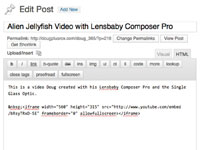 10

Right-click and select Paste from the context menu.

The YouTube HTML code is added to your blog post.