How to Set Up Web Hosted Error Pages
How to Set Up Web Hosted Error Pages
When a user requests a page from your website, one of the things that your website does is return a status code on an error page, which signals either a success or failure. The server logs each of these codes so that you can see how many pages are getting failures and how many are getting delivered as they should.
Various status codes indicate errors; in addition to being logged, these codes are sent to your visitor's browser.
Depending on the setup in your web server and the particular browser the user is using, when the user receives error codes, quite often all she sees is a page saying, "File not found," "webpage not found," or "webpage not available." This doesn't really tell the user too much, and it doesn't help her in any way to find what she was looking for on your site.
You can set up custom error pages that the server will deliver to the browser in the event of an error. You can set up a different page for each error code, or you could use the same page no matter which error code is generated.
The most common error codes are 404 and 500. A 404 error code means that the page requested does not exist, so there is no page for the server to deliver to the browser.
To set up an error codes custom error message within cPanel, use the following steps:
1

Log into cPanel using the login details provided by your host when you signed up.

If you don't remember these login details, contact your web host.
2

Scroll to the Advanced section and click the Error Pages icon.

This will display the Error Page screen.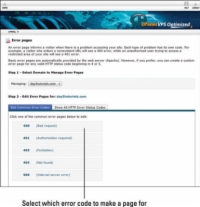 3

On the Error Page screen, select which error page you want to modify.

It is generally recommended that whatever page you generate for the error codes, or even if you forward users to a specific page when an error is generated, that you have some text prominently on the page to explain to the user that she was directed there because of an error. This then explains to her why she's not seeing exactly what she was expecting to see.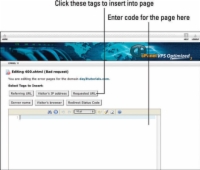 4

The server displays a box with the current HTML code that is used to display the current error message.

This box may be blank if you haven't modified it previously. You can edit this information to display the page however you want. Above the Edit box are some tags you can insert. These place the appropriate data on your page wherever you insert them.

What many websites do is direct users to a page that has a search facility on it. This then gives the user the option of searching the website for the information that she was looking for.

If you are creating one of the 5xx series error pages (that's 500, 501, 502, and so on), then the error page should be as small and simple as possible and inform the user that the website is down but you are working on bringing it back up as soon as possible.

If you do not have a 500 series custom web error page, when users see a 5xx error, what they see in a browser may lead them to believe your website is no longer functioning permanently rather than it being a short-term problem. Having an error page that informs visitors that the error is just a temporary thing helps to keep them coming back.

You can create different custom error pages for each domain that you host.

The software you use to create your website may also include the facility to make custom error pages. Software such as Joomla or WordPress may have error pages built into the themes or plug-ins you can install. You may find that these are more desirable than coding them manually in your control panel because the software enables you to create error pages that look like other pages on your website.