Test iPhone Designs with Safari
Test iPhone Designs with Safari
The closest you can come to having Safari on an iPhone or iPad is Safari on a computer. It has a few notable differences, including the larger screen size that most people use on computers and the fact that Flash works in Safari on a Mac or Windows computer but not on an iOS device.
The Safari web browser, shown, is available for free for both Windows and Macintosh computers from the Apple Safari website, also shown. Safari is definitely the best browser to use when testing designs for the iPhone or iPad on a desktop computer. You can download Safari.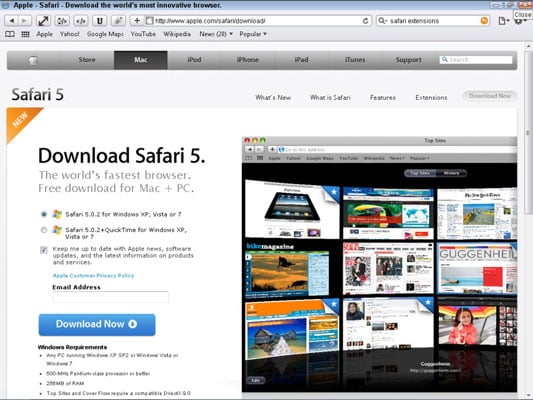 The desktop computer version of Safari is different from Safari on your iPhone and iPad. Sites don't always have the same displays across all devices and operating systems, which is why you must test your pages in a variety of ways, and why being able to change the user agent, covered in the next section, can come in handy.
A user agent is a snippet of text sent from a web browser to a web server to inform the server which version and type of device, operating system, and browser are being used to visit a website. Think of it as a virtual introduction. First impressions are important on the internet, which is why sending the right user agent is one of the biggest challenges of testing mobile sites on a desktop or laptop computer.
Many mobile-optimized websites use device detection to identify visitors, and content adaption to deliver the best version of the site to each device. What matters when you're testing a website is that if the device detection script on a server recognizes that you're using a browser on a computer, it doesn't show you the phone version.
That's where user agent switching enters the picture. Safari includes special features that make it possible to change the user agent.
If you're working on a site with a special URL for the mobile version of your site, or you know the specific mobile URL of a site, you can sometimes open the mobile version without changing the user agent.