How to Create an Event Listing in Your Squarespace Site
How to Create an Event Listing in Your Squarespace Site
Squarespace 6 allows you to create an event listing in your website, complete with a title, a description, the start and end times, location information including a map, and calendar subscription links so that your site visitors can add your events to their calendar application.
You can use the event listing feature for any number of purposes, including upcoming gigs, social meet-ups, live broadcast recordings, conventions you're attending, conferences you organize, or upcoming sales.
Creating an event listing is similar to creating a blog post, adding an image or a video to a gallery, or releasing a product in your store. Follow these steps:
1

Log in to your Squarespace website.

Go to Site Manager→Content Manager.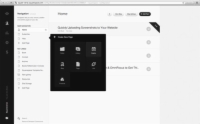 2

In the navigation column where your site pages are listed, click the Add Page link below the navigation area to which you want to add the events page.

The Create New Page dialog box appears.
4

Name your events page and then click Save.

Feel free to modify the page's URL below the name if you don't like the automatically generated URL, which is based on your page name.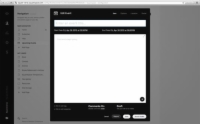 5

Now that the page is added to your navigation, add your first event by clicking the Add Event button at the top of the screen.

The Edit Event dialog box appears.
6

Give your event a title, set the start and end dates and times, and add a description.

You can also organize your events into categories, which is useful if you have are adding lot of events and want to group similar events. You can also add keywords about the event using the tags feature.
7

Click the Options link in the upper right.

Add a thumbnail for the event (such as a picture of the location). In the excerpt area, provide a brief description; this text will appear in your site when multiple events are on the same page. You can also use a summary block to display events in other areas of your site.
8

Click the Location link in the upper right to set the location.

Add the name and address of the event. This information will appear on a map on the event page in your site.
9

Click the Social link in the upper right to promote your event to your social media accounts.

Publish status updates to your social media accounts about the new event when you save and publish the event to your site, as described in the next step.
10

Publish the event to your website.

Click the Save and Publish button to save your event to your events page and publish it on your site. Or click the Save button to save the event to your events page as a draft, which enables you to publish to your site at a later time.