How to Register for a Google Account
How to Register for a Google Account
Google Page creator provides sophisticated tools that let even beginners design Web pages. Before you can use Google Page Creator to build your own Web pages, you must register for a Google account. To register and get started on building a Web site, follow these steps:
1

Open your Web browser.

Google works with any browser and can be used from a mobile phone or other non-computer device. However, you'll need to use a PC to create a Web page.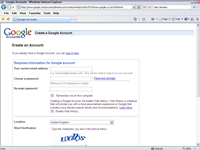 If you're already registered as a Google user, your username and additional options appear in the top line on the right.
3

Click the Sign In link.

The Google Accounts page appears.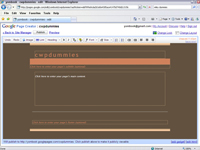 4

If you have a Google account, sign in and skip the rest of these steps. Otherwise, click the Create an Account Now link.

The Create a Google Account page appears. Your e-mail address will be part of your Web URL.
5

Enter a current e-mail account.

If you don't already have an e-mail account, you can create a Gmail account.
6

Choose a password, and then re-enter it.

The Password Strength meter automatically assesses your password to make sure it fits the rules. However, it will say "too short" until you press the Tab key or click in another area after entering your password.
7

(Optional) Click the Remember Me on This Computer check box.

This lets you to log into your account automatically when you visit Google. You will have the chance to choose this again later if you change your mind.
8

(Optional) Clear the check box Enable Web History.

This prevents Google from keeping a history of your Web searches and Web site visits.
9

Click the Country pull-down list.

A list of countries appears so you can choose yours.
10

Type the verification characters.

As with many other sign-ups, Google requests that you type in the characters in the verification graphic.

If you are visually disabled and using a screen reader, select the image of a person in a wheelchair. The characters are read aloud for you to type in.
11

Review the terms of service.

Click the Printable Version link to see an easy-to-read, easy-to-print version in a new window. For details, click the Privacy Policy link or the Terms of Service link.
12

Reply to the verification e-mail.

A verification e-mail is sent to the e-mail account you entered as part of this process. Retrieve the e-mail message and use the link to verify your account by clicking the link, if your e-mail program supports that, or by cutting and pasting the link into the address area of your Web browser.

After you respond to the instructions in the e-mail, you've finished creating your account.