How to Embed a Google Map with iFrame
How to Embed a Google Map with iFrame
Do you have a business that you want people to find? If so, embedding a Google map in your site with iFrame makes that easy.
The trick to embedding content is to find content that can be embedded in your site, formatted by you, customized with your own HTML, and integrated into your site in a way that looks, feels, and acts like it is indeed part of your site.
This trick (method and approach) can be applied to embedding all kinds of content in your page. For example, the iFrame tag can be used to embed any web page in one of your own pages.
Here are the basic steps for embedding a Google map with iFrame: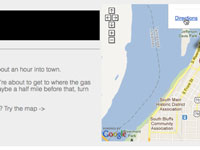 1

Enter your address in the search box at Google Maps.

This figure shows an interactive Google map is embedded in a page.
2

Click the Search Maps icon.

Or press Enter (Windows) or Return (Mac) to display your location on a map.
3

Click the Link icon in the panel to the left of the map.

The options to link to, or embed, the map are displayed.