Add Basic E-Commerce to Your Website with PayPal
Add Basic E-Commerce to Your Website with PayPal
If your site is on a strict budget, PayPal is a viable alternative to hosting with a secure server and purchasing a credit card–authorization package. In fact, many successful e-commerce sites use PayPal to complete transactions. PayPal is the brainchild of the folks who created eBay.
Online shoppers nowadays with a personal PayPal account can pay for purchases using a debit card or credit card, or by transferring funds from the bank account associated with the PayPal account.
When you use PayPal to accept payments, you can create a custom payment page. When you create a custom payment page, it looks like the payment is being conducted with your own secure server. To create a custom page in PayPal, follow these steps:
1

Log on to your PayPal Premier or Business account and navigate to the Profile page.

Here is where you specify your account information, financial information, and seller preferences.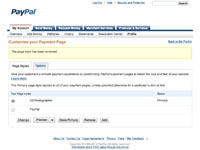 2

Click My Selling Tools and then choose Selling Online→Custom Payment Pages.

The Page Styles section of the site appears. The default payment style is PayPal unless you already created a custom payment page. In this case, all payment page options are displayed and a custom style is selected.
4

In the Page Style Name text box, enter a name for the custom page style.

This name is added to the list of custom styles associated with your profile.
5

Set the banner.

Custom: Enter the URL for the custom banner that will be displayed at the top of your custom payment page in the Header Image URL field.

Not custom: If you're not using a custom banner, set these parameters.
6

Click Save to save the custom style.

You are returned to the Custom Payment Page Styles page.
7

Click Preview to preview the custom style.

If the style isn't to your liking, change the parameters until the custom style matches the look and feel of the e-commerce site from which the payments are being made.
8

Select the radio button for the style you just created.

This makes the selected style the style that displays when payments are made from the e-commerce site.