How to Add Your Business Listing to a Search Engine
How to Add Your Business Listing to a Search Engine
To get your business on a local search, you should start at the search engine itself. The search engine shows you where you already stand in the local results, and from there you can grab control of your current listing or add a new one.
1

Go to the search engine and search for your product.

For instance, if you own a pizza parlor, search for pizza along with your town's name (just to make sure that Google searches the correct locale).

If you see your business listed, that's great!
2

If you don't see your business listed, see whether it's on the full page of results.

You should see a link to more local results. Google, for instance, at the time of writing, has a link under the local results that says More Results Near [Location], or you can click the map.
3

If you still can't find your business, add your business name to the search and search again.

Search Roddy's Rodent Pie Shop pizza denver, for instance.
4

If you're still not there, try searching for the business name and location, with no product or service keyword.

Search Roddy's Rodent Pie Shop denver, for instance.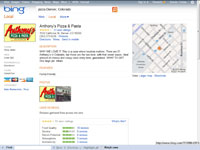 5

If you're still not there, your business probably isn't listed, so go to the appropriate link and add your listing.

If you do find your business, though, you need to find your way to the full page of data. In Yahoo! and Bing, clicking the business name link takes you to the information page.

In Google, clicking that link takes you to the company's own website, which is not what you want — sometimes there's a More Info or Reviews link, or you can click the little pin icon. If you're viewing the map, click a pin and then click the business name.

Take a look at what's on your business page — a little sparse? Don't worry, you'll be able to change that soon. You need to look for a way to grab control of your business.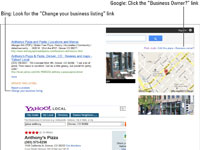 6

Look for a link or button that says something like Edit Info, Business Owner?, or Change your business listing and then click it.

You're on your way to taking control of the listing.

The sort of information you provide depends on which system you're submitting to, of course.
7

Select some kind of business category and then enter information such as contact information.

You might include other information: a link to your website, business description, payment methods you accept, operating hours, brands you sell, photos, and videos.

Add as much text — with keywords, of course! — as many product and brand names, as many photos as you can, as many videos as possible (Google allows you to include video; you have to upload it to YouTube.com first and then embed it into your listing.)

Adding keywords helps your listing become a match for more possible search phrases, and in any case, adding content to your listing may give your listing a little oomph in the search results.