How to Set Up an Emulator in Android Studio
How to Set Up an Emulator in Android Studio
An emulator (also known as an AVD) is an Android Virtual Device that looks, acts, walks, and talks (well, maybe not walks and talks) like a physical Android device. AVDs can be configured to run just about any particular version of Android.
Follow these steps to create your first AVD:
1

Choose Tools→Android→AVD Manager.

The AVD Manager dialog box opens.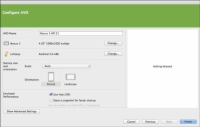 4

In the Configure AVD dialog box, use the default AVD name or change it to a haiku.

Leave everything else alone.