How to Join the Apple Developer Program
How to Join the Apple Developer Program
To run your app on a real iPad or get a chance to profile your app in the App Store, you have to enroll in either the Standard or Enterprise version of the iPhone Developer Program. The iPhone Developer Program membership approval process used to take a while, and although the process does seem quicker these days, it's still true that you can't run your apps on your iPad until you're approved for the program. You should enroll as early as possible.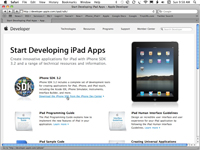 1

Go to the iPad SDK section of Apple's Web site.

The address is http://www.apple.com/ipad/sdk. Scroll down to the Test and Distribute Your iPad App section near the bottom.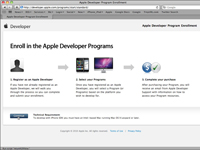 3

On the left side of the screen, click the Enroll Now button.

A new page appears with an overview of the process of joining the program.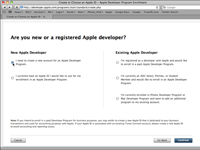 4

Click Continue to enroll.

A screen appears with the option to create a new Apple account (or use an existing one).
5

Choose an option to create a new Apple account or use an existing one.

If you already registered, select the I'm Registered as a Developer with Apple option. If you haven't registered yet but have an Apple ID already (from iTunes Store or Apple Store purchases), select the I Currently Have an Apple ID option. If you don't have an ID, select the I Need to Create a New Account option.
6

Click Continue.

A screen appears asking whether you're enrolling as an Individual or a Company, and providing information about the Individual and Company enrollment options.
7

Click Individual or Company.

The Apple Developer Program Enrollment Personal Profile page appears if you need to continue adding personal information for an Apple account and to register as a developer. If you are already registered and have already agreed to the developer agreement, you go directly to the payment page.
8

Enter your payment information and click Continue.

Depending on the option you selected, you're either given the opportunity to pay (if you selected Individual) or you're asked for some more company information and then given the ability to pay. (But pay you will.)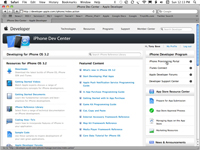 9

Continue through the process, and eventually you will be accepted in the Developer Program of your choice.

After acceptance, you can log in to the iPhone Dev Center as an Official iPhone Developer and see the page shown in this figure.