How to Create an Apple Development Provisioning Profile and Development Certificate
How to Create an Apple Development Provisioning Profile and Development Certificate
To run an app on the iPad, you must have a Provisioning Profile installed on your iPad, as well as a Development Certificate on your Mac. The whole point of the Development Provisioning Assistant is to guide you through the steps to create and install your Development Provisioning Profile and Development Certificate.
1

On the iPhone Provisioning Portal page, click the Launch Assistant button in the Provisioning Assistant section.

The Assistant launches with a diagram showing the three steps for provisioning: configuring your profile, downloading and installing the certificate, and building your app.
2

Click Continue to start.

The Development Provisioning Assistant asks you to choose an App ID.
3

Choose an App ID.

An App ID is a unique identifier that is one part of your Development Provisioning Profile. The iPhone OS on the iPad uses it to allow your app to connect to the Apple Push Notification service, share keychain data between apps, and communicate with external hardware accessories that you want to pair your app with. But even if you don't want to do those things, you need to create an App ID anyway in order to install your app on an iPhone OS–based device, such as an iPad.
4

Connect your iPad with a USB cable to your computer, launch Xcode, and choose Window→Organizer.

The 40-character string in the Identifier field is the device's UDID.
5

Provide the Assistant with your iPad's Unique Device Identifier (UDID).

The Assistant shows you how to locate the UDID by using Xcode, if you need help.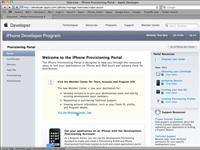 6

Create your Development Certificate, if you don't already have one, by clicking the Certificates link the left column of the portal's home page.

Follow the instructions that appear. All apps must be signed with a valid certificate before they can run on an Apple device. If you have an existing Development Certificate, it appears in the Assistant, and all you need to do is click Continue.
7

Give your Provisioning Profile a name and click Generate.

The Provisioning Profile pulls together your App ID, Apple device UDID, and Development Certificate. The Assistant then steps you through downloading the profile and handing it over to Xcode, which installs it on your device.
8

Drag the profile over the Xcode icon in the Mac OS X Dock.

Alternatively, you can drag the profile directly to the Provisioning Profiles section of the Organizer window. (Choose Window→Organizer in Xcode to open the Organizer window.)
9

In Xcode, choose Window→Organizer and click the device's name in the Devices section of the Projects and Sources pane of the Organizer window.

The profile should appear in the Provisioning section of the Summary pane for the device.