Overview of Joomla Modules
Overview of Joomla Modules
In Joomla, modules are embedded applications that appear around the edges of your pages. In fact, in Joomla, in most templates, even powerful items such as menus are displayed in modules.
You handle modules in Joomla with Module Manager. You can open Module Manager by either clicking the Module Manager icon from the Administration control panel, or by choosing Extensions→Module Manager on any back-end page.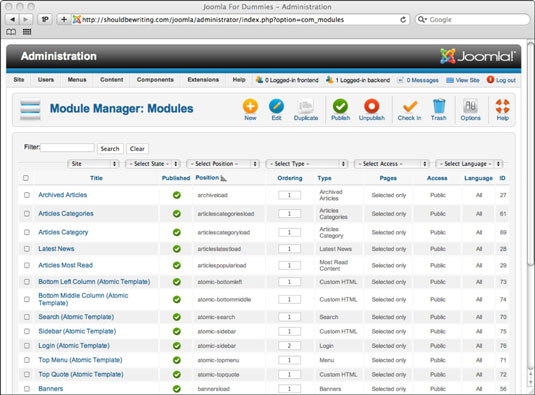 To work with an individual module, click its name in Module Manager; a customization page for that module opens.
Here are the modules that come in the default Joomla installation, arranged alphabetically:
| | | |
| --- | --- | --- |
| Archived Articles | Articles – Newsflash | Articles – Related Articles |
| Articles – Categories | Articles Category | Banners |
| Breadcrumbs | Custom HTML | Feed Display |
| Footer | Language Switcher | Latest News |
| Latest Users | Login | Menu |
| Most Read Content | Random Image | Search |
| Statistics | Syndication Feeds | weblinks |
| Who's Online | Wrapper | |
Module Manager has nine columns for each module:
[Selection Box]: Option enabling you to work with modules en masse

Title: The name of the module

Position: The position on the page where the module should appear

Pages: The pages on which the module is visible

Module Type: The type of the module

Published: Option indicating whether the module is published or unpublished

Ordering: Dictates the ordering of the modules Joomla uses when multiple modules that use the same page position are published to the same page

Access: The level of user allowed to see the module. The default access levels for Joomla are: Public (everyone), Registered (logged-in users), or Special (authors and above). However, you can create an infinite number of custom access levels to suit your site's needs (for more on access levels.

Language: The language settings for the module

ID: The Joomla ID of the module