How to Publish an Uncategorized Article in Joomla CMS
How to Publish an Uncategorized Article in Joomla CMS
After you create an article and a menu item in Joomla content management system (CMS), the two must be linked together before it will be available to the users of your web site. Uncategorized articles are linked directly to the menu item. If you categorize your article, the category is linked to the menu item, making all articles in the category available through the menu item.
To link a menu item to an article, follow these steps: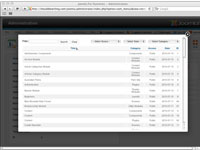 1

Click the Select/Change button in the Required Settings section of the Edit Menu Item page.

The Select Article page opens over the Edit Menu Item page.

Notice the Search, Access, State, and Category interface items at the top of the Select Article page. They make searching for an article easier if you're working on a site with a large number of article entries.

For this exercise, leave the Access, State, and Category fields alone. Search for the Privacy Policy article, either by scrolling through all of the articles available on the page, or by entering the article's title in the Filter text box and clicking the Search button.
2

Click the Privacy Policy article's title.

The Article Selection page closes, and you return to the Edit Menu Item page.
3

Click the Save & Close button.

You return to Menu Item Manager, which displays a message to tell you that the menu item was saved.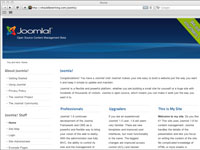 4

Test the new menu item.

Take a look at the front page to see the article. Refresh it, if necessary. The About Joomla! menu should have a new item — Privacy Policy — at the bottom.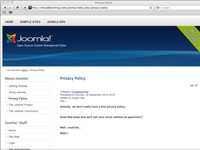 5

Test the article.

Clicking the new Privacy Policy menu item opens the Privacy Policy page.

Is there an ad on your new page? If so, that ad is the product of the Banners module, which displays banner ads. To remove it, unpublish the Banners module in Module Manager — that is, click the green check mark in its Enabled column to change it to a red circle.