How to Create an Uncategorized Article in Joomla
How to Create an Uncategorized Article in Joomla
Uncategorized articles are free-floating elements on your site. Many Joomla site developers don't have any uncategorized articles at all; they create categories especially for single pages. A privacy policy could go in a section called Notices and a category called Privacy, for example.
To create an uncategorized article, for instance, a privacy policy, follow these steps: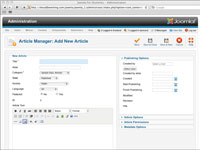 2

Click the Add New Article icon.

Article Manager's Add New Article page opens.

By default, new articles are uncategorized. The Category drop-down menus is set to Uncategorized, and you leave it that way for this exercise.
3

Enter the article's title in the Title text box.

For this exercise, type Privacy Policy.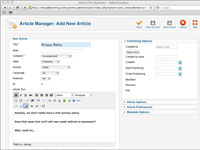 4

In the Article Text window, enter the article body.

For this exercise, use the following text:
Actually, we don't really have a firm privacy policy.
Does that mean we'll sell your email address to spammers?
Well, could be. . . .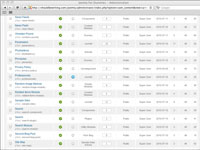 5

From the State drop-down menu, select Publish. Now, click the Save & Close button.

The Add New Article page closes, and Article Manager's Articles page opens, displaying the new article.

When you're done working with an article in the Add New Article page, be sure to click Close or Save & Close; don't just save the page. Whenever you open an article in the editor page, Joomla checks that article out for you.

If you just close the Add New Article page without saving your changes or closing the page, you may see a padlock in the article's Published column in Article Manager from then on, which means that the article is still checked out.

To check in any number of articles, place a check mark in the checkbox adjacent to the article's name, and then click the Check In button at the top of the Article Manager page. You can also check in an individual article by clicking the padlock icon next to it.