How to Create a Data Table for Your Website
How to Create a Data Table for Your Website
When you create a table to be used with a Spry Data Set, you should generate a table with sufficient columns for all your fields. It's easy to add rows to a table in Dreamweaver, so there's no need to stress over how many records you'll end up having in your table.
To create a table in an open document in Dreamweaver, follow these steps:
1

Choose Insert→Table.

The Table dialog box opens.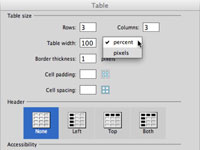 2

Define table parameters — Fields, Records, Size, Accessibility

Because this table won't be seen by anyone, and is used only to organize data, Cell Padding (space between the content of a cell and the border of the cell) and Cell Spacing (space between cells) aren't important.

This table has three columns, which will be used for a database with three fields.
3

In the top row of the table, enter field names.

These names won't display in the Spry Data Set widget; they just serve to remind you what's in each column.
4

Starting in the second row of the table, enter text, images, links, video, or any other content that will be presented in the Spry Data Set widget.

Styles will be applied in the Spry Data Set widget.

(Optional) Use the Modify→Table menu in the Dreamweaver document window to add or delete rows or columns.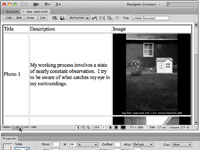 5

After you enter data (and of course, you can always add more data, or delete data), give the table a name (in the Table field) in the Properties Inspector.

The context-sensitive Properties Inspector displays Table attributes when you select the table. Click the border of the table, or click the Table tag in the Tab bar at the bottom of the Dreamweaver document window.
6

Save the HTML page with the table.

You're now ready to create a Spry Data Set widget that will display this data in other pages.