Drupal Site Article Writing
Drupal Site Article Writing
In your Drupal site, Articles are ideally suited for dynamic content. Articles can be written to support collaboration, commentary, tags and images. Articles are the ideal method to present news and blogs to your site visitors.
Even though an article can allow user comments, it doesn't necessarily have to. You may want your article to contain news from your company, but may not be interested in user feedback on that news. Sometimes comments can clutter up a site and are better left for pages other than the home page.
1

Access your site.

Log in to your site as administrator.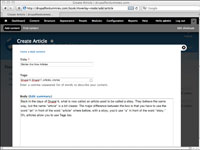 2

Choose Content→Add Content→Article.

The Create Article form appears.

The Title text box for an article posted on the front page behaves differently from the Title text box for a basic page. A basic page title is the actual title on a page and appears both at the top of the page and in the title bar of the viewer's browser. The title of an article appears directly above the article, but the page the article is on has its own title.
3

Add body and a title.

Your new article has text boxes for both the body and title.
4

Add tags to your article by typing in the Tags text box.

Separate each tag from the next with a comma.

Tags are keywords or topics associated with your article which gives visitors quick access to a list of all articles about a particular topic. For example, if you have a site about dogs and an article on beagles, you can add the tag beagle. Then, when beagle fans click the word beagle (which appears under your published article), they see a list of all articles with the same tag.
5

Scroll down and click the Comment Settings link.

For this article turn off comments by selecting the Closed radio button.