Creating an Article for your Drupal Site
Creating an Article for your Drupal Site
Creating content, like an article, for your Drupal website is why you went through the installation and configuration of your site. To add your first article to the home page of your Drupal site, follow these steps:
1

If you aren't logged in to the site, log in with your administrator username and password.

Click the Add Content link on the left. You see The Add Content overlay appear, showing links for Article, Basic Page, and Blog Entry.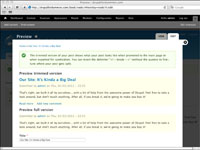 3

Type something in the Title and Body text boxes.

Scroll down to the very bottom of the page, and click the Preview button. You see a preview of your article.

Your article will not yet appear on your website. This just gives you an idea of what it will look like when it is published — and gives you the chance to make changes before it appears on your website.

You can use the Preview button again and again as you write, add to, and edit the article. Preview your article as often as you wish without saving it. It won't appear on your website until you click the Save button.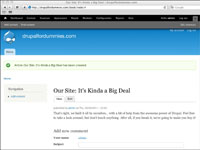 4

After you've made any additions or changes to it, and when you are happy with it, click the Save button at the bottom of the page.

That's it! You see a confirmation message in green that your article has been published, but that message won't show up on the site when you reload, and anybody else visiting your site will not see the green text. By default, your article has a Comment link. Only registered users can add comments.

To see your new article, reload the browser. Your article is visible to anyone who browses to your site, whether or not they are logged in.