Basic Page Editing in Drupal
Basic Page Editing in Drupal
When you view a basic page you create in Drupal, it has an Edit tab that site visitors will not see. The Edit tab exists to allow you, the Drupal site administrator, to make changes to the content on your basic page. In the example, a comma was left out that now needs to be added. You can go back and edit the basic page to fix this.
1

Access your site.

Log in to the site as the administrator.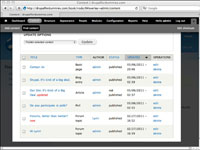 2

Click Content on the Dashboard menu bar.

You see a list of pages, including the new one you just created.

If you ever create a basic page and click the Preview button, but never click the Save button, the basic page will not be saved. Make sure you save the page before browsing elsewhere.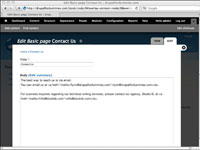 3

Click the Edit link next to the basic page you want to edit.

You see the same form you used to create the basic page, but this version has two tabs: a View tab and the currently selected Edit tab.

Only you, as the administrator, will see the Edit and View tabs. Site visitors will not see them.
4

Make your desired changes.

Click Save or Preview until you're happy with your changes.