Display Information with a Twitter Feed Widget
Display Information with a Twitter Feed Widget
The microblogging service Twitter has been taking over the world, 140 characters at a time. All kinds of iPhone/iPad apps exist to allow the "twitterati" to update their profiles, customize which Twitter updates (or tweets) they see, and keep up on Justin Bieber's latest choice in hair care products. If you're active on Twitter, you can also bring its immediacy to your site by displaying your Twitter updates on your mobile site.
1

Log in to your Twitter account and navigate to the Widgets page.

You must have or create an account first.
2

Select Resources on the left side of the Home screen, and then select Widgets.

Continue to the next step.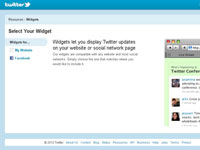 3

In the Widgets For column, click My Website and select the Profile Widget.

This is for displaying your Twitter updates on your website.
4

Type your name, and then complete the process of customizing the various settings.

For example, you can choose whether to display a scroll bar, specify the number of tweets you see, select which colors the text and hyperlinks use, and choose how many pixels the box occupies on the screen.

As always, pay special attention to the Size settings. You can either set the width of the widget manually or choose to have it autoresize (which may not work on your site, depending on the other design elements you have chosen).

You can also choose to display the tweets of another user — although you should make sure that the user's account isn't private and allows you to display their updates.

If you go back to the main widgets page, Twitter will also allow you to create a widget that displays tweets based on predetermined search terms that you specify, your all-time favorite tweets, or even a list of your favorite Twitter users.
5

When you're happy with the settings, click the button that generates the code you need and embed it in your site.

If you use a WordPress Mobile Pack plug-in to optimize your site for mobile devices, the Profile Widget may fail to show up. In that case, go to your WordPress Dashboard page. Under Appearance, click Mobile Theme. A page opens showing the settings for the WordPress Mobile Pack.

About halfway down is a box next to the Remove Media setting. After you make sure the box is deselected and save the changes, a JavaScript widget like this Twitter feed runs on your mobile web page. Of course, all kinds of other scripts are then allowed to run on your page, so test your WordPress blog thoroughly to make sure you haven't unwittingly enabled an option that slows page load times to a crawl.