Convert E-mails into WordPress Posts
Convert E-mails into WordPress Posts
Blogging is one of the simplest and most popular ways to publish on the web. If actors and politicians can run their own blogs, well, then just about anyone should be able to pull it off, right?
But how do you send blog posts from an iPhone or iPad? Fortunately, that part is easy as well. Here's how to set up your WordPress blog to accept your e-mails and turn them into content:
1

Open a browser and navigate to your WordPress blog's Dashboard.

This is your starting point.
2

Click the Settings button in the left sidebar.

Depending on how you have set up your own blog, your Settings button may be in a different location, such as at the bottom of the sidebar.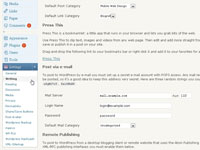 3

Click the Writing link.

The Writing Settings page opens, as shown. This page enables you to adjust many of the settings for creating new posts. Skip the first two sections because they have nothing to do with creating posts via e-mail; make changes to them only if you know what you're doing.

Under the Post via E-Mail heading is a paragraph containing three suggested "random strings," which look like this: 23anir8r2c. These are for you to use as usernames to send your blog posts to. That is, you send your e-mails to 23anir8r2c@yourdomain.com, and they automatically publish.
4

Enter the mail server for your e-mail account.

If you have a self-hosted WordPress blog, the mail server probably looks similar to mail.yourblogname.com.
5

Enter the secret e-mail address you've already created in the Login Name box.

Don't use your regular e-mail address. If you do so, then all the e-mail you get in your inbox (including secret love notes and chain letters from your crazy uncle) posts automatically and immediately to your blog. WordPress recommends you create a really obscure e-mail address (see the examples that follow) and keep this e-mail address as secret as possible.
6

Enter the password you established for this e-mail account.

This was done when you created the account.
7

Select a category from the Default Mail Category drop-down list.

If you want the posts from your mobile device to be in a special category (such as Out and About), you choose it in this step. This setting assigns this category to all e-mail messages you send to the secret e-mail address.
8

Click the Save Changes button.

After you complete this process, all you have to do to post to your blog is send an e-mail to the secret address you specified in Step 5. The Subject line of your e-mail becomes the title of your blog post, and whichever elements you have in the message area (text, photos, or even video) become the content of your post.