How to Upload Pages with an FTP Client (FileZilla)
How to Upload Pages with an FTP Client (FileZilla)
Dreamweaver file management is a wonderful thing. However, if you need to upload files for which you haven't set up a site in Dreamweaver, an FTP client is the ideal solution. An FTP client also comes in handy when you want to download files from a server — for example, when you're doing a site makeover.
Quite a few FTP applications are available. The current version of FileZilla is 3.5.3, and it's free as of this writing. FileZilla is easy to use and is flexible enough to upload an entire website at once or upload single or multiple files. To upload files using FileZilla, follow these steps:
2

Navigate to the folder on your computer where you stored the files you want to upload.

The window on the left side of the interface shows the files on your local machine. Click the down arrow to the right of the current folder window in the Local Site window to access your system's directory structure. The window below Local Site displays individual files.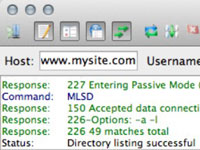 3

Enter the host URL as well as your username and password in the appropriate fields.

You usually don't have to change the default port. This figure shows the proper nomenclature for the site URL. Some web-hosting companies are different. If you enter the URL but can't connect, refer to your web-hosting company's technical support.

In most instances, all you'll have to change is the port number. Make sure you're using FTP credentials and not the credentials to access your web-hosting account. Most web-hosting services have a cPanel (control panel) in which you set up e-mail, FTP access, and so on.
4

Click the Quickconnect button.

FileZilla connects to the website. The status of each task you perform with the application appears in the window below the URL and other text fields. After the application connects to the web server, it displays the remote files on the right side of the interface. Folders have a question mark (?) icon on them.
5

Click the folder into which you want to upload files.

FileZilla reads the contents of the folder. The window below Remote Site displays individual files in the selected folder.
6

In the left window, select the files you want to upload and drag the files into the applicable folder in the right window.

FileZilla uploads the files to the server. When you upload a file, the progress is displayed in the window at the bottom of the application.