How to Create an Online E-mail Newsletter
How to Create an Online E-mail Newsletter
Creating an online newsletter shouldn't be a hassle. A good newsletter provider has templates you can use as the basis for your newsletter. All you need to do is add the text and images.
When you decide to send e-mail newsletters, you decide which clients will receive your newsletter. In this example, Ark Animal Hospital already had a mailing list, which was imported to MailChimp. Ark Animal Hospital also had the option to manually add clients to the list and delete clients. After importing the list, it's time to create the first "new" newsletter.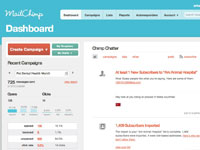 1

Log into MailChimp.

The first thing you see is the Dashboard. This displays information about recent campaigns. MailChimp users can also select individual campaigns, modify current mailing lists, check reports, create an auto-responder message to thank subscribers for signing up, and manage the account.
2

Click the Create Campaign link.

A campaign in MailChimp-speak is a single newsletter sent out to a list.
3

Decide which list the newsletter will be sent to.

MailChimp gives you the option of creating multiple lists. You can also fine-tune the recipients by sending the e-mail to a segment of the list.
4

Enter information about the campaign.

Enter the name of the newsletter, the message subject, the name of the sender, and the reply to e-mail (address). In this step, you can also add the capability to track how many recipients open the e-mail, use Google Analytics to monitor traffic from the campaign to your website, and also integrate the newsletter with Twitter and Facebook.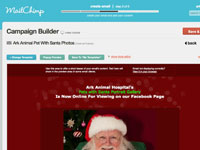 5

Create the newsletter.

You can change templates, preview the newsletter, save the newsletter as a template, or use the style editor to fine-tune the look of the newsletter. The figure shows the newsletter Ark Animal Hospital sent to subscribers after client pets were photographed with a local Santa Claus by a professional photographer.
6

Enter a plain text message.

This step allows the newsletter author to create a plain text message that will be displayed to those recipients with e-mail applications that don't support HTML. Another option is to let MailChimp copy the plain text from HTML.
7

Confirm the campaign.

Preview all your choices and edit anything prior to sending the campaign.
8

Send the campaign.

You can send it immediately, or schedule the delivery for a later date or time.