Choose Widgets to Display on Your Blog
Choose Widgets to Display on Your Blog
If you're a blogger, you've probably added a widget or two (or ten). After you set up your WordPress blog for the mobile web using WordPress Mobile Pack, follow these steps to display widgets for your readers.
1

Open a browser and navigate to your WordPress blog's Dashboard.

This is your starting point.
2

Click the Plugins button in the left sidebar.

The Manage Plugins page appears.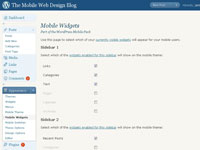 3

Scroll to the WordPress Mobile Pack plug-in and click the Mobile Widgets link.

The Mobile Widgets page appears, as shown. This page contains various check boxes that allow you to winnow your widgets to just the ones that are absolutely essential to your blog. You can enable your widgets on the regular Widgets page, where you can drag and drop the elements to add, subtract, or reorder the content.
4

Select which widgets you want to display on the mobile version of your blog.

Accepted wisdom is that no more than three widgets should load when you hit a mobile page. (Purists say anything more than two is pushing it.) Consider carefully what information absolutely, positively has to be on your mobile blog. Widgets for stock tickers, Twitter feeds, Flickr slide shows, or MP3 players can severely clog page load times.
5

Click the Save Changes button.

Now you're done!