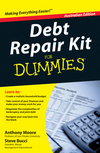 Debt Repair Kit For Dummies®, Australian Edition
ISBN: 978-1-74216-941-5
Paperback
240 pages
May 2010
This title is out-of-print and not currently available for purchase from this site.
All the tools you need to get your finances back on track
Are you seeking straightforward advice on how to avoid debt and establish a good credit standing? With this book, you discover how to dispute inaccurate information in your credit report, communicate with debt collectors, set financial goals and build a good credit history, as well as how to detect and avoid scams and identity theft.
Check your credit report - find out how to obtain your credit report and correct any mistakes
Establish a strong credit standing - build up a credit history with the financial services sector
Negotiate with debt collectors - understand how you can reach an arrangement that satisfies both you and your creditors
Find expert and independent guidance - seek help from a financial counsellor who can help you overcome your money problems
Manage your finances effectively - learn how to set financial goals, use credit
Visit the companion website at www.wiley.com/go/ debtrepairkitfd for a guide to the legislation that protects consumers; letters to the Australian credit reporting agency, creditors, banks and more; and forms and worksheets, including financial calculators and budgeting tools.