Linking Text Boxes in Word 2007
Linking Text Boxes in Word 2007
Sometimes, you might need text to flow from one text box into another (and maybe another after that!). In that case, you need to use Word 2007 to create linked text boxes. For example, you might use text boxes to create a sidebar with text related to your document. If the sidebar is particularly long, you can continue it in another text box.
Follow these steps to create a set of nicely linked text boxes:
1

Type the text you want to place in a series of text boxes.

Creating linked text boxes is often easier if you first create the text to put in them.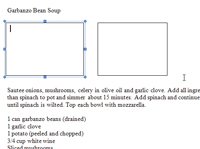 2

Create two or more text boxes.

Need a refresher on creating text boxes? Here's what you do: First click the Text Box button in the Text group on the Insert tab. Then choose Draw Text Box from the menu that appears. Now, click where you want one corner of the text box to appear and drag to where you want the opposite corner. Then release the mouse button.
3

Select the text you typed in Step 1 and press Ctrl+C.

The text copies to the Clipboard.
4

Select the first text box and press Ctrl+V.

The text from the Clipboard pastes into the text box. The text box displays as much of the text as it can; the rest is hidden.
5

Right-click the text box and choose Create Text Box Link.

The cursor changes to a weird-looking coffee cup.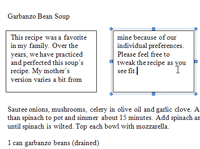 6

Click the second text box.

The extra text that's overflowing in the first text box spills over into the second.
7

If you want to spill text into additional text boxes, repeat Steps 5 and 6.

You can link as many text boxes together as you want.