How to Use the Basic Find Feature in Word 2007
How to Use the Basic Find Feature in Word 2007
Word 2007 offers a basic Find feature that you can use to locate text in your document. Locating text is a snap, whether it's a protracted diatribe or the tiniest monosyllabic utterance. Either way, the Find command stands ready to tackle the task.
Finding text is the domain of the Editing group, found on the far right end of the Home tab on Word's Ribbon interface. The Editing group may appear in its full glory, or it may simply appear as an Editing button. When it's a button, you must click that button first to see the palette of commands.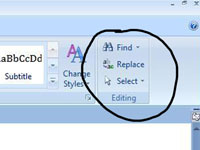 1

On the Home tab, click the Find button in the Editing group.

Sometimes you may have to click the Editing button to get to the Find button. If all else fails, use the keyboard shortcut: Ctrl+F.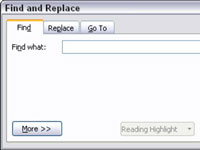 2

Type the text you want to find into the Find What box.

Be exact. For example, if you want to find yourself, type yourself — no period or spaces or quotes. Type only the text you're looking for.
3

Click the Find Next button to start the search.

Word searches for the text you typed, starting from the insertion pointer's location to the end of the document. If any text is found, it's highlighted (or selected) onscreen, and the insertion pointer moves to that location in your document. If the text isn't found, you may be asked to search "at the beginning," which means the beginning of the document. Click the Yes button to do so.
4

When you're done, click the Cancel button.

The Find and Replace dialog box goes away.