How to Use an Existing Word 2010 Document as a Template
How to Use an Existing Word 2010 Document as a Template
A quick-and-dirty way to create a Word 2010 template is to basically steal an existing Word document, using it as a template. All text from the document is sucked into the new document, plus any styles or other template-y things found in the original document. Basically, this is the easiest and sneakiest way to make one document share information from your already created efforts: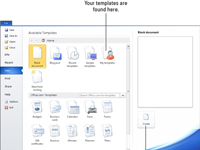 1

Click the File tab and select the New command.

The right side of the tab displays all your New command options.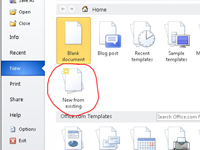 2

Choose the New from Existing item.

Choosing this option displays the New from Existing Document dialog box, which is essentially an Open dialog box, the kind you're familiar with through songs and tales told by the tribal elders.
3

Select a Word document to use as a template.

The Open dialog box allows you to search your hard drive to locate the file you want to use.
4

Click the Open button.

It looks as though Word just opened the document you selected, but a quick glance at the title bar shows you that a new, blank document has been created, instead. All styles and any text from the document you chose appear in the new document.
5

Edit your new document, saving it (and giving it a name) while you go.

The original Word document you used as a template remains right where you left it.