How to Open Documents in Other Formats in Word 2007
How to Open Documents in Other Formats in Word 2007
In Word 2007, you can open documents that are in different formats. You can specify a file format to narrow down your search, or choose the All Files option and let Word do the work for you.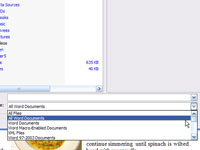 2

From the Files of Type drop-down list, select the file format.

By choosing a specific file format, you make Word narrow the files displayed in the Open dialog box. Only files matching the specific file format are shown. If you don't know the format, choose All Files from the drop-down list. Word then makes its best guess.

Keep in mind that if you're using Windows Vista, the drop-down list lacks a name; it just says All Word Documents. Click that button to choose a format.
3

Click the document you want to open.

Or, work the controls in the dialog box to find another disk drive or folder that contains the file.