How to Insert Special Characters or Symbols in Word 2007
How to Insert Special Characters or Symbols in Word 2007
To insert special characters or symbols in Word 2007 that aren't on your keyboard, such as em or en dashes, you choose a symbol or character from either the Symbol menu or the Symbol dialog box.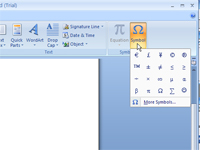 1

In the Symbols group on the Insert tab, click the Symbol button and choose a character or symbol from the drop-down list.

The list shows a selection of popular or recently used characters and symbols, and the one you choose is inserted into your document.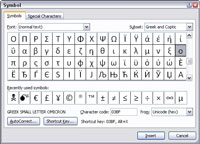 2

To insert other symbols, click the Symbol button again and choose More Symbols from the Symbol menu.

The Symbol dialog box opens.

To see the gamut of possible characters in normal text, choose (Normal Text) from the Font drop-down list. Use the Subset drop-down list to see even more symbols. Choose a decorative font, such as Wingdings, from the Font menu to see strange and unusual characters.
3

To insert a character in your document from the Symbol dialog box, select the symbol and click the Insert button.

Click the Insert button once for each symbol you want to insert. When you want to insert three paragraph symbols (¶) into a document, for example, you must locate the symbol on the grid and then click the Insert button three times.
4

When you finish using the Symbol dialog box, click the Close button.

The Cancel button changes to a Close button when you click Insert. You have to click Close to close the dialog box.