How to Display Styles in Your Word 2007 Document
How to Display Styles in Your Word 2007 Document
Word 2007 lets you display styles in your documents, so that you can see which paragraph style is assigned to each paragraph all at once.
1

Make sure that you are in Draft view by checking the View tab.

If you're not in Draft view, switch to it by clicking the Draft button in the Document Views group in the View tab.
2

Select Word Options from the Office menu.

The Word Options dialog box displays.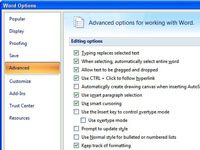 3

Select the Advanced option from the list on the left.

In the Display section of the very long list of advanced options, type the width that you want to use for the Style area in the text box labeled Style Area Pane Width in Draft and Outline Views.

Generally a width of an inch works well.