How to Create Custom Keyboard Shortcuts in Word 2007
How to Create Custom Keyboard Shortcuts in Word 2007
If you're a keyboard shortcut junkie, you probably want to create your own keyboard shortcuts. Luckily, Word 2007 lets you assign the styles, macros, and other goodies you use most often to handy keyboard shortcuts.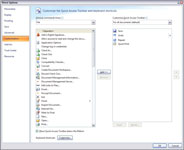 1

Call up the Customization tab of the Word Options dialog box.

To open the dialog box, click the Office button and then click Word Options. Then click the Customization tab.
3

Select the item for which you want to create a keyboard shortcut.

Click a category, and then select the command, style, macro, font, or other item for which you want to create the keyboard shortcut. Spend some time exploring these lists. A lot of useful commands are buried amongst a bunch of strange-looking gobbledygook. You can create a shortcut for any command, style, macro, font, or just about any other item.
4

Type the new keyboard shortcut.

To do this, first click in the Press New Shortcut Key text box. When you type the shortcut in this text box, Word lets you know whether the key is already assigned to some other command.
5

Click the Assign button.

Word assigns the keyboard shortcut. Then click Close.