How to Center a Page in a Word 2010 Document
How to Center a Page in a Word 2010 Document
If you want to center the text of a page in your Word 2010 document — for example, the title page — you can select Word's Center alignment option to align the text left to right. But how about centering the title top to bottom? Word can do that, too:
1

Move the insertion pointer to the start of your document.

The Ctrl+Home key combination moves you there instantly.
2

Type and format your document's title.

It can be on a single line or on several lines.
3

To center the title right to left, select it and press Ctrl+E.

That combo is the Center keyboard shortcut.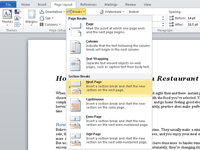 4

Position the insertion pointer after the title's last line, and then, on the Page Layout tab, choose Breaks→Next Page from the Page Setup area.

The section break after the title's last line ensures that only the first page of your document is centered top to bottom.
5

Ensure that the insertion pointer is once again on the document's first page.

You need to be on the page you want to format.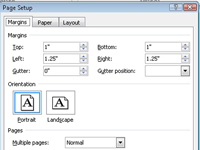 6

Click the Page Layout tab and click the dialog box launcher in the lower-right corner of the Page Setup area.

The Page Setup dialog box appears.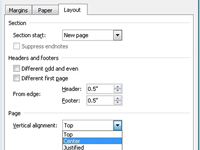 7

Click the Layout tab and select Center from the Vertical Alignment drop-down list.

You can find this item in the bottom half of the dialog box.
8

Confirm that the Apply To drop-down list shows This Section, and then click OK.

Your changes are easy to see when you use Print Layout view. The first page of the document will be centered, top to bottom.