How to Adjust Line Spacing around a Paragraph in Word 2007
How to Adjust Line Spacing around a Paragraph in Word 2007
You can add space before and after paragraphs in your Word 2007 documents. This is a great way to spread out a list of bullet points or numbered steps without affecting the line spacing within the bullet points or steps.
This isn't the same as double-spacing the text inside the paragraph. In fact, adding space around a paragraph doesn't change the paragraph's line spacing.
1

Select text that you want more space around.

Position the insertion pointer in the paragraph, or mark a block of paragraphs to affect them all.
3

Click the Page Layout tab.

Head over to the Paragraph group, about mid-Ribbon.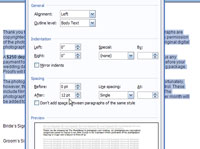 4

Add space before or after the paragraph.

Use the spinners in the Before and After boxes in the Paragraph group to adjust the value. As you do this, the paragraph (or paragraphs) grow extra spacing. For example, if your text size is 12 points, click the up arrow by After until the value 12 appears in the box. This adds 12 points, or one blank line, of space after each paragraph you type.

The space you add to the paragraph becomes part of its format, just like line spacing would, although the space afterward appears only after the paragraph's text.