How to Add a Cover Page to a Word 2010 Document
How to Add a Cover Page to a Word 2010 Document
Word 2010 offers a Cover Page menu, so you can create a cover page for your Word document without having to fuss with removing headers and footers from that one page: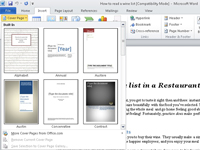 1

Click the Insert tab and, in the Pages group, click the Cover Page button.

A fat, fun menu full of various cover-page layouts appears.
2

Select a cover-page layout that titillates you.

That cover page is immediately inserted as the first page in your document. Then Word displays it onscreen for further editing.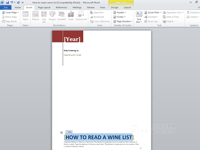 3

Click the bracketed text on the cover page and type the required replacement text.

For example, click [Type the Document Title]. Then type your document's real title. The text you type replaces the bracketed text.
4

Repeat Step 4 until the cover page looks the way you like it.

Leaving the bracketed text on your title page is tacky. Your boss doesn't want to see a report that has [Company Name] on it rather than your company's real name.
5

To remove a cover page you've inserted, choose the Remove Current Cover Page command from the Cover Page menu.

It helps to have the insertion pointer on the cover page to delete it.
6

To replace a cover page you've removed, choose a new one from the Cover Page menu.

While you learn more about Word, you can even modify or add elements to the cover page after it's inserted.