Adding WordArt in Word 2007
Adding WordArt in Word 2007
WordArt is a nifty little feature that takes a snippet of ordinary text in Word 2007 and transforms it into something that looks like you paid an ad agency to design. Follow these steps to create WordArt.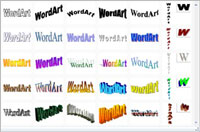 1

Click the WordArt button in the Insert group on the Insert tab.

This step brings up the WordArt gallery.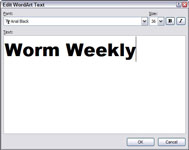 2

Click the WordArt style that most closely resembles what you want to create and then click OK.

The Edit WordArt Text dialog box appears.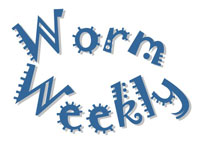 3

Type your text in the Text field and then click OK.

The WordArt object appears. The Ribbon also displays the Format tab under WordArt Tools. Experiment with the controls you find there as much as you want until you get the text to look just right.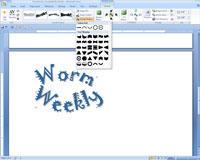 4

(Optional) To change the shape of your WordArt, use the Change Shape button, which is found on the Format tab, in the WordArt Styles group.

A menu appears when you click this button. You need to experiment a bit with these shapes to see how they work. Note that some of them have two or three sections. For those shapes, enter the text you want to appear in each section of the shape on a separate line in the Edit WordArt Text dialog box.